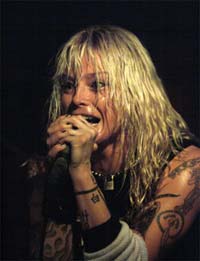 My pals Matt, Mike and I went to a great metal show a couple of weekends ago. The main bill was one of my all time favorite bands: OTEP

I did a review of Otep before and this show was equally as great. But first let me cover the opening bands.
The first band was a metal band and I can't remember their name (Matt, help me out on this one). They were pretty damn good and had a very attractive blonde female bass player. She was quite athletic looking and very thin. No body fat at all. She had long blonde hair. They did a great show and loaded their gear off the stage.
My buddies and I about died when we saw the blonde bass player loading not only her bands gear off the stage, but helping the next bands load their gear on and off the stage! All the bands we've been in the "female" in the band never loads anything. It's quite a thing to see all these bands helping each other out. They're on a very small tour and they're surely not making much dough. It's all about rock and roll and they're all contributing to the effort.
When the first band was off stage they mingled into the audience and ended up at the t-shirt booth. My buddy and I both went and talked to the blonde bass player. We were both enthralled by not only her great smelling perfume, but her Australian accent…. ohhhhhh.
During the first band and the first break there was a big guy at the t-shirt booth selling shirts. He had ratty sandy colored hair which was all in dreadlocks. We were laughing and wanted to get a pic of this dude because he actually fell asleep behind the counter. Quite entertaining. My pals woke him up and bought some shirts and CDs from him for one of the other bands there called "Gizmachi." I love the Gizmachi CD. It is very unique and cool.
Gizmachi was a VERY cool band. They were kind of a cross between Candiria and Incubus. If you don't know those bands are then cross very heavy technical metal with some occasional melodic vocals and clean guitar.
The interesting thing here was that the dude that was falling asleep at the t-shirt stand was the singer for Gizmachi! He was catching a catnap and building up his energy reserves for the show.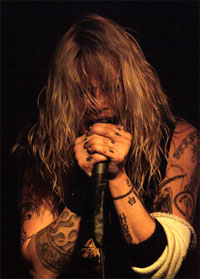 Now on to the meat of the show: OTEP!
When the lights went off the audience went crazy. The band took the stage minus Otep herself. They started making noise and getting the energy level cranked up. We could see backstage and out a door to the outside. Bouncing around in the back parking lot like Mohammed Ali was Otep. She was back there getting her cardiovascular system revved up to the level she'd need it for the show. And what a show it was…
The first thing that happened was a large mosh pit formed when Otep finally started playing. I immediately got sucked into the pit. Note to self: Don't wear flip flops to an Otep show again. My feet took a beating. There were a couple of very hot females who just happened to bump right into me. Of course I had to play a little grab ass just to keep them from hitting the floor and getting trounced to death in the mosh pit. I try to do my part to help society.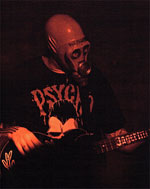 Evil J (the bass player) was on a freaking roll the whole night. His tone was stellar (as always) and he was bouncing around and up and down like a pogo stick on speed. Evil J is a "player." He's not just some shitass metal bass player. He could play with anyone, any style. During one song he put on a very cool gas mask (see pic).
They cranked through tons of their killer songs and Otep captivated the audience like always. I can't keep my eyes off her when she is performing, not really in a sexual way (though there is some of that) she just commands the attention of the audience. She oozes cool. She sweats cool. She spits cool. She is cool.
She had a different look at this show. She had a little more eye makeup and her hair was a little straighter. She looked stunning and her voice was perfect.
The drummer Doug Pellerin is unbelievable. He is a spot on metal technician with feet faster than most drummer's hands. He keeps a plain expression on his face and appears to expend little energy. But the parts he plays shred with incredible speed, precision and originality.
speaking of the drummer, I couldn't believe how fast they were doing some of the songs. There are drum parts in there with extremely fast double bass and I couldn't believe he could pull them off at such an increased speed. No problem for Doug.
I'm kind of all over the map as far as what I'm writing but the whole show was a blur. Otep didn't take the stage til close to 1:00am.
One interesting thing was the moment of silence Otep did for the former guitar player for American Head Charge. He passed away on the tour bus a couple of weeks after their last show here in town. Oh, speaking of American Head Charge…I'll be seeing them, along with Static X tomorrow night. Their site appears to be down so the link is to a stupid MTV page, sorry.
Ok then. So back to the Otep show. When the show ended I was completely spent. My buddy Matt and I left the building and walked to our car. We walked right by Otep's tour bus. It is a hell of a rig. All custom. It's a retired man's dream for going to all those campgrounds…
Matt had been taking pics of the show (which you've seen) so he decided to take a pic of their bus. Right at that point, the Otep musicians came out for a breath of air. I immediately headed right to them to say hello. What do you say to sweaty metal musicians anyway, especially when they're busy working the groupies and I'm trying to break into the conversation?
I told Evil J he put on a hell of a show and he was very cool and thankful. Not a cocky attitude at all. I talked to the drummer and told him how much he kicked ass and that I should know, because I'm a drummer too. He was genuinely thankful as well. I told him I couldn't believe he could pull off some of those badass double bass fills at the speed they did the songs. His reply: "I could do them a hell of a lot faster." No shit? Damn I'd pay to see that. Then he told me that the reason he can play some of the double bass and hand riffs so fast is that he was doing double stroke rolls with his kick drums. Unbelievable…
Ok, I've rambled enough. I wish I could think of more nuggets of the show but it was one of those deals where it was so awesome, you can't put it into words.
Photo credits go to my friend Matt who is a kick ass photographer.
As I said, Matt and I will be at another metal-fest tomorrow night so a report will follow.
Adios.