Day two of tracking.
The goal tonight was to wrap up the drum tracks and initial guitar tracks. We were able to get started fairly quickly as all the gear was pretty much set.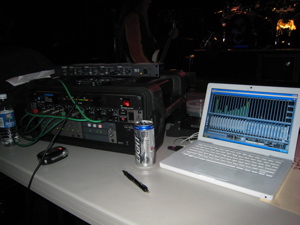 The damn software mixer which comes with the Tascam 1804 was completely reset somehow. All the levels I'd tweaked the previous session were gone. So I had to go through the damn process of tweaking the monitor mix again. This is even more of a pain in the ass since the monitor knobs only work when you move them past some arbitrary point.
All musicians are on drugs
We started tracking and things went fairly well most of the evening. The guys in the band of course had to stop and bust out a bong between takes. One of the many reasons I'd stopped recording years ago was stupid shit like that. What if a cop came in and busted these dudes smoking dope and I'm there?
Ghost in the machine
Tracking was going fairly well until around the last of three songs we laid down. Then in the middle of what ended up being a bad take anyway, my external hard drive vanished. The MacBook firewire port goes out to the Tascam I/O, then through that unit to the external firewire drive. I ended up having to power all the units down and back up to get the drive to reappear. This happened a total of three times.
I'm a bit concerned about the drive disappearing. I suspect it's just a bug between the Tascam, windows, the MacBook running windows etc… If this fucker goes down now we'll lose all we've tracked. So the first thing on the list at the next session is to backup the data. I didn't have time to do it tonight but the drive is powered down and not being used unti the next session.
Assuming the drive and data is ok, next session we'll start working on bass tracks.