This event happened last week but I knew it would take a while to write this post so thus the delay.
Last Wednesday night I had an overnight stay away from my place. I was in downtown SLC for the night and my van was parked on the street. I've parked there about 100 times with no problem. But this time I had forgotten that my cymbal bag (more like cymbal backpack) was in the back seat of my car. I'd been in the studio a couple of nights before doing some drum tracks and at that studio all I need to bring is cymbals.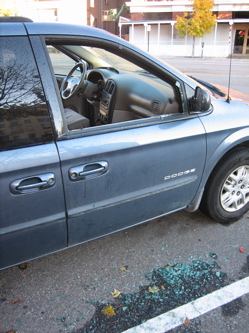 9:00am Thursday morning I walk out to see that my passenger window is open and I'm thinking I'm a bonehead for parking overnight with a window open. When I get closer I realize that my window had been busted out. At first I thought is was just one of those deals where kids with nothing to do drive around busting out windows. It then dawned on me after inspecting my van that I did have my cymbal bag in there. My cymbal bag had been stolen.
I frantically looked in the very back of the van because I then remembered that I had stupidly left a Fender Stratocaster in there too. My strat hasn't seen the light of day for 3 years and I just had it in the car because my guitar teacher was giving me hell for storing a nice guitar in a cold, damp storage unit. The robbers must have either been blind or gotten scared off because the Strat was still there.
Major loss
In the bag were close to 10 cymbals. I had a pair of Sabian Hand Hammered 13″ hats that would cost me about $550 to replace. There was a Zildjian 18″ china which I'd had over 25 years. Among many crashes, rides and splashes was a Sabian Rocktagon. The Rocktagon, an 8 sided cymbal, hadn't been made for years. What a loss.
I called the cops right there on the spot. They don't even send anyone out anymore. You just file your police report on the phone. I got a case number. Yeah, that will help. On the way home I called my insurance agent and friend but I knew I'd be screwed because the car insurance would only cover damage to the car and the cost of a new window wouldn't even reach my deductible. Yeah, I'm out about $3-4K worth of cymbals. I'd hand picked each one over the years and many were simply irreplaceable.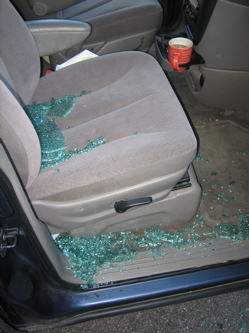 The rounds
I busted out the yellow pages and proceeded to call every pawn shop in the city. I gave my name and phone number and a description of what was stolen to all of them. Apparently though, pawn shops now have to have a valid ID and take a thumb print when any merchandise comes in. At the end of each day the shop then reports all the items to the cops. If by chance a pawn shop got my gear in and then accurately described it (which was not likely), the cops would presumably see a similarity and investigate. Yeah, right.
After talking to all the pawn shops, the music stores were next. Many stores take in used gear on consignment or just buy used gear. I called them all. One place was great. The owner told me he'd love to have the chance to "stick his gun in the face of these robbers" when he sees my gear come in.
I then took a drive to the place where I buy all my drum gear: Backbeats. Backbeats is a drum and backline shop in Salt Lake. My two good friends of 20+ years, Sean and Kelly, are the owners. I told Kelly about what had happened and I wrote down a list of the missing gear to him in case someone came into the store to dump them. Along with being a drum shop, Backbeats does backline for touring acts that come into town. Kelly was kind enough to offer a loaner set of cymbals to me for my gig the next night.
The guys at Backbeats
Friday afternoon at about 3:00, about 35 hours after I'd found my cymbals were missing, I jumped in the van (new window installed) and headed to Backbeats to pick up some loaners for my gig that night. I pulled up to the shop and opened the door. Sean was standing IN the doorway. He's a big guy and it was strange for him to be blocking the door like that. He saw me walk in and whispered to me "your guys are here, go in the back room." Holy shit, that could have only meant that someone was in the store with my gear!
I walked through the store and looked at the patrons in there. I didn't really see anyone who looked like the type that would rip off gear. Just some older people for the most part.
When I got in the back room Kelly was on the phone and I could hear that he was giving a description on the phone: "He's got gray hair and a gray beard. He's 5′8″ tall, about 55 years old." He then turned to me and whispered "I'm on the phone with the sheriff's office. Your stuff is right there." Two of Kelly's employees were slowly taking MY cymbals out of my bag and talking about it in a loud voice. I got goose bumps when I saw my HH hats coming out of the bag. Meter (short for Demitri) was slowly saying "this is a Sabian 16″ sound control. Hmmm, retail $325 and we'd buy it for $120." He was talking really slow and moving really slow. They were delaying the process while waiting for the cops to arrive!
An off duty cop whose son took drum lessons at the shop heard the call and came by on his way to the gym. In his gym shorts he detained the TWO guys who had come in with my cymbals. He was stoked to help out his pals at Backbeats and hurried asap when he heard the call and stayed until the uniformed cops arrived.
Right about when the uniformed cops arrived another gentleman came in. I regret that I can't remember his name, but he was introduced to me as the Zildjian Cymbal rep. When he got the story of what was going on with me in the back room he jokingly commented that he was glad I recovered my Zildjians that had been ripped off but didn't really care about the Sabians (Zildjian's competitor).
The crooks
By now the officers had verified with me and the shop that there was no doubt these cymbals were mine. The guy who had the cymbals in his hand was being arrested for possession of stolen property. The other guy didn't have them in his possession so he couldn't be arrested for the same thing. Both crooks were fairly old, late 50's I'd say.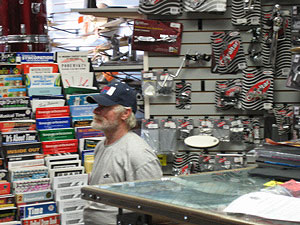 Drugs
I heard the officer ask the crooks if they were on drugs. Their answer, "Yes. Meth." The cop then patted them down and started pulling all sorts of drug paraphernalia from their pockets. Numerous needles, crack rocks etc. Jokingly Kelly and I told one of the cops that we didn't even know what crack looked like. We all thought it was ironic that these musicians who'd been in the scene for decades didn't even know what crack and meth looked like. Kelly said to the cop "we work too hard practicing and playing gigs to mess with that shit." Amen.
The cop asked the one crook if there were any drugs in his backpack. He said no. The other crook said, "come on, just tell them." Yeah, the guy said no thinking that the cop would simply believe him and not search the backpack? So the cop searched the pack and found even more drugs. DOH.
Busted big time
The cops came and asked me what my gear was worth so they could evaluate the level of felony to charge the crooks with. Sean the shop co-owner pointed at the Zildjian rep and said "Why don't you ask him? He's the product rep!" Half way through evaluating the value of each cymbal and the dollar amount at over $2000.00 the cop said "ok that's good enough." 2nd degree felony.
Crook #1 was busted for 2nd degree felony possession of stolen goods, drug possession and numerous outstanding warrants from previous arrests. Crook #2 was busted for drug possession and numerous outstanding warrants as well. Both guys were going to be hitting the can.
In the back room of the drum shop the employees and I were all doing high-fives with each other. We were so happy. They were thrilled to help out one of their brothers in the drum world. Kelly shouted "Hooray for the brotherhood of drummers!"
I snapped a pic of crook #1 with my camera phone and if it appears here that means I figured out how to get the damn thing out of my phone into my computer.
The 2 hour experience at Backbeats ended with the crooks being hauled off to jail and me having to wait until the police photographer came by to shoot some snaps of the stolen gear. I had to fill out a police report and the cops got my info so I could testify against the crooks when their court date came up. I'll be there with a big smile on my face.