Today I was a drummer, not a sound guy, computer geek or whatever. I was a drummer. It felt good too…
Now that I'm back in the gig rotation somewhat it was time to make a trip to the local drum shop. This shop is run by two long time pals. What's cool about this place is….well, it's a drum shop. They don't sell guitars or PA systems. They sell drums.
I had a wonderful Ludwig brass snare drum from 1962 or so in my gig kit for close to 20 years. I bought the thing for $15 from a guy who didn't want it anymore and didn't know what he had.
That Ludwig snare was the loudest, sweetest, most responsive drum ever. I could play licks on that thing I'd never be able to pull off with other snares. Unfortunately that drum, my Top New Beat HH cymbals and the snare case were ripped off about a year ago. I would have gladly given up my entire drum kit rather than losing that snare.
I've been playing gigs with my other $15 early 60's Ludwig snare but this one was made of steel and not brass (though they both look exactly the same with a chrome finish). This one is about 20 pounds lighter than my old one. It sounds great but isn't "magic" like my old brass one was.
So today I decided I'd find a replacement for that old lost snare. My first thought was a Ludwig Black Beauty. The Black Beauty is the exact same drum as the one I lost, only it's black instead of chrome. Ludwig is still making them amazingly. I tried the 2006 model, along with about 6 other snares today. I tried a copper Ludwig snare from the early 70's which I could have picked up for around $100. It didn't "sing" the way I wanted. I also tried a few other metal Ludwigs, Gretsch's etc. My final decision was between a 5″ solid copper Copper Shell Collector Series by DW and that 2006 Black Beauty.
I put them both on a kit and bashed them like I normally would at a gig. BASHED them. Both drums sounded amazing. Neither sounded like my old brass baby but they sounded amazing in their own different ways. I finally ended up deciding to pick up the DW. It is a beauty. It weighs about 300 pounds. Sean, my sales guy & buddy said this one would be a little more durable on the road and it was about $100 less than the BB was.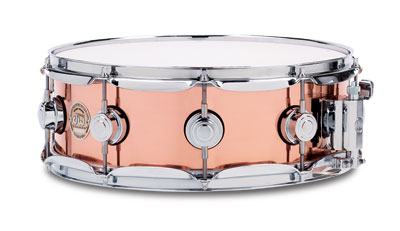 I also picked up a new gig bag for the DW since my old snare GB was ripped off as well. Threw in new heads for the whole gig kit and oh, I had to pay for the sticks I demo'd with since I beat 'em up pretty bad.
Gig tomorrow night. First time with the new solid copper snare. A report will follow (hopefully with many women flashing the band…hot women this time though).