Alternate titles:
"It's all about who you know."
"Met the mayor of Salt Lake City this weekend!"
"Jazz is alive and well in Salt Lake."
"Rocky Anderson tries to bring Salt Lake out of the dark ages."
"Tom Scott's band is amazing."
How is this for a venue?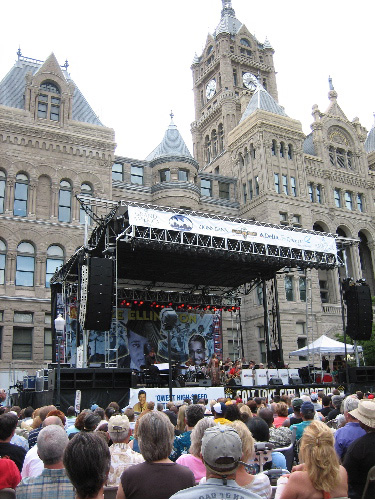 In the pic above Patti Austin is performing with her rhythm section and jazz musicians from Salt Lake. Her whole set was a tribute to Ella Fitzgerald. I've never heard Patti perform live before and she was totally amazing.
The Rippingtons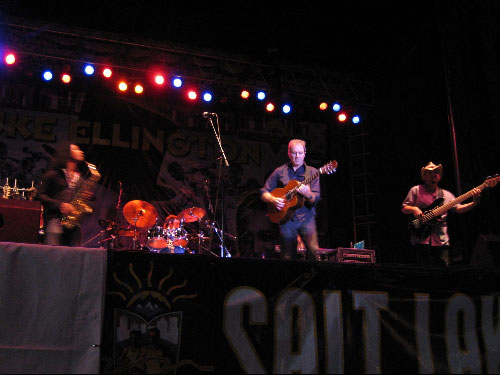 The Rippingtons (above) have been around for about 20 years playing their style of jazz. These guys are very talented and tight live. But they're not my style. They're kind of like Kenny G meets Lee Ritenour. Though I had front row seats through my best pal Matt, I couldn't stand the whole set. The Kenny G sounding stuff was making my skin crawl.
Tom Scott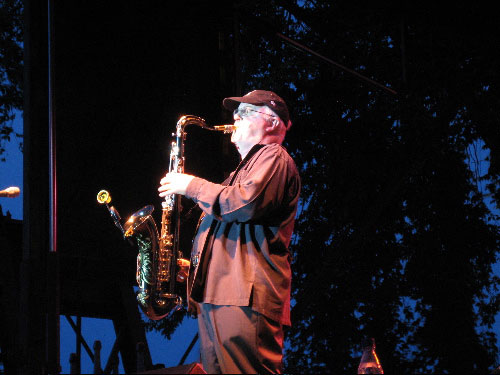 I've been a Tom Scott fan for years. There's Kenny G, the cheeseball "jazz" sax player and then theres one of the best sax players ever in Tom Scott. Tom Scott spent his time practicing, writing and working with the likes of George Harrison and many jazz greats while Kenny G was at the hair salon.
Tom Scott's band is f'ing amazing. Most of them look like cats from Memphis. His keyboard player was a blind black guy who was having so much fun on stage I couldn't wipe the smile off my face. His Hammond B3 piped through a Leslie sounded SO cool I was melting.
My new pal: Salt Lake Mayor Rocky Anderson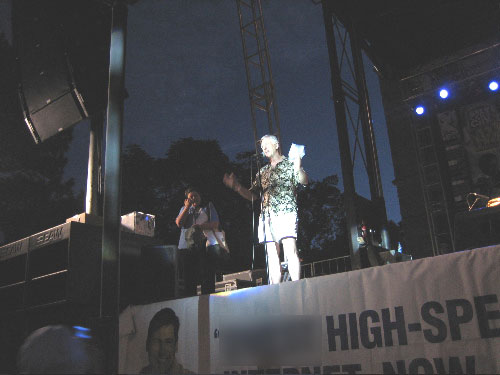 In the pic above my new buddy Rocky Anderson is addressing the crowd. My friend Matt (once again) introduced me to the Mayor. In a conservative republican town like Salt Lake, Rocky is a breath of fresh air. Rocky is the one guy who is trying to bring Salt Lake out of it's shell and turn it into a modern city with arts, decent liquor laws and attractions that people other than Mormons would want to see.
Way to go Rocky. Keep up the great work.