My buddy Matt and I are planning on attending what should be a killer night of Metal on February 3rd. That night has on tap In Flames, Trivium and Devil Driver.
Devil Driver is a very cool metal band with on of the most unique sounding singers in the metal world…
My pal Matt is at the NAMM show and sends me this email and picture: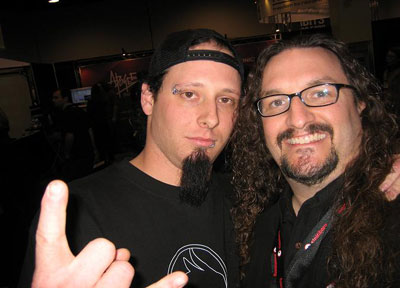 OK, so I'm talking to this hardcore-looking guy at the Steinberg booth today. We're talking about how cool Cubase is when he mentions he plays in a band called, "Devil Driver". I shit my pants, and then told him that we were planning to come see the show in SLC on the 3rd of February. He shit his pants right after I pulled my phone off my hip and showed him that I had "Devil Driver" written into my Feb. 3rd schedule. He said he'd get us tickets. Then he said that when he's done with this tour, they're going out with Opeth. He gave me his phone number and said anytime he's in town, he'd be happy to get us tickets.
I love this job!
Matt