It has been over two years since Johnnie, my loved bass player who moved to Portland, has been back to town.  On 12/23 Johnnie was in town for the Christmas holiday and the new version of the band was playing at a local club.  So Johnnie and I crashed the party.
About half way through the first set, the one remaining original member of the band called us up to play.  Though I was playing on a strange kit and though Johnnie and I hadn't locked in with Kerry for 2+ years, it was magic.  We effing rocked it.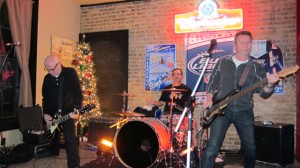 It was great to bash the skins, though my chops weren't quite what they would normally be.
I need to find a gig for 2012.  Need to do some live playing, some composition and perhaps some studio work.