The apres ski gig went pretty well. It's not a deal where anyone dances because all the people in the club are in ski boots.
It was a 3-piece setup: Drums, bass, guitar. The female singer plays a pretty decent bass guitar.
I finally figured out who the lesbian singer looks like. Linda Hamilton. Remember Sarah Conner from the Terminator movies? That's her.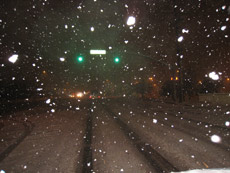 White Knuckle Drive Home
Apparently it had been snowing outside during the whole show. When I got to my car it was covered. I don't have snow tires and my tires are fairly bald. So I put it in 1st gear and inched down the canyon, managing not to slide off the windy road to my death. I didn't want to be yet another dead rock & roll musician who died a tragic death….